When you've earned the prestigious title of "The Greatest Outdoor Show on Earth" for as long as the Calgary Stampede has, it's no surprise that a multitude of exciting events and activities awaits. With such an abundance of choices, deciding how to spend your time can be a delightful challenge.
But fear not, as we're here to assist you! Whether you're seeking a dazzling drag brunch, a showcase of local art and artisans, or a traditional honky-tonk experience complete with live music and dancing, we have handpicked a selection of food-and-drink-focused options to make your Stampede unforgettable.
Dickens – Night of 1,000 Dollies (July 6)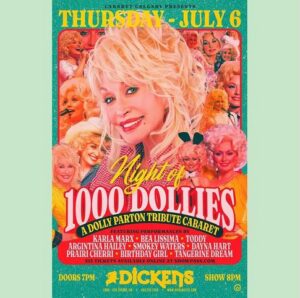 While the Calgary Stampede offers something for everyone, if you're a fan of old-fashioned country shindigs, you won't want to miss the Stampede Sneak-a-Peek night at Dickens. This event features a cabaret tribute to the Queen of Country herself, Dolly Parton. Expect an incredible fusion of queer and country, with local performers like Karla Marx, Bea Lissima, Toddy, Argintina Hailey, Birthday Girl, and Tangerine Dream showcasing their best Backwoods Barbie-inspired singing, dancing, and burlesque performances.
YYC Summer Scoop Fest (July 6-7)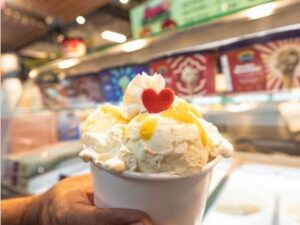 Cool off from the summer heat at the second annual YYC Summer Scoop Fest. This ongoing festival brings together 20 of our favorite ice cream purveyors from Calgary. Treat yourself to a delightful array of chilled treats while also supporting a worthy cause, as the festival raises funds for Calgary Meals on Wheels. Be sure to sample the delectable offerings, and at the end of it all, one local business will be crowned YYC's Best Scoop.
Ace High Stampede Kickoff at Deane House (July 7)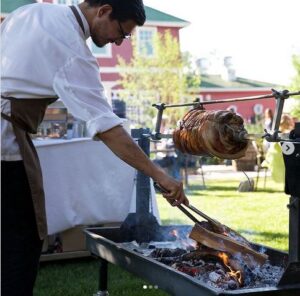 If you're looking for a fun-filled way to kick off your Stampede experience while contributing to a great cause, don't miss the second annual Ace High Stampede Kickoff party at Deane House. This event supports the Trellis Society, allowing you to feel good about your participation. Get ready to immerse yourself in a traditional Stampede celebration with Western wear, lively dancing, and summer-themed libations. And with the event being hosted at the legendary Inglewood eatery, you can expect nothing short of delicious food to accompany the festivities.
Mexifest (July 7-9)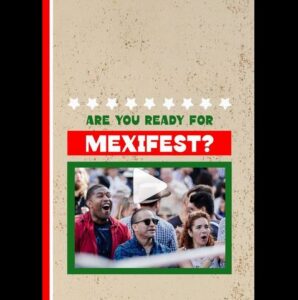 If you find yourself in need of a break from cowboys and country music during the Stampede, head down to the corner of 4th Avenue and 9 Street Southwest for Mexifest. This vibrant celebration of Mexican culture offers a delightful variety of authentic Mexican food and beverages from various vendors. Immerse yourself in the festive atmosphere with live mariachi music, dancing, thrilling luchador performances, and a showcase of Latin artisans.
Twisted Element – Boots, Buckles & Beats (July 7, 8, and 14)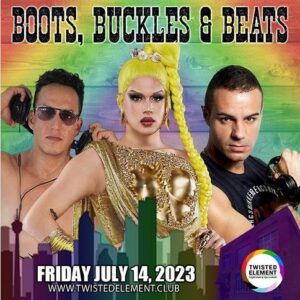 No matter the date, a night out at Calgary's favorite 2SLGBTQ+ venue, Twisted Element, is always a guaranteed fun time. However, on July 7, 8, and 14, Twisted Element will be hosting its 2023 Stampede-themed events, Boots, Buckles & Beats. Each night will feature a different set of hosts and performers, including the likes of Honey Davenport, Giselle Lullaby, Maddy Morphosis, Lemon, and more. Prepare to be entertained by incredible music and performances throughout the night.
The Prairie Emporium – That Don't Impress Me Brunch (July 9)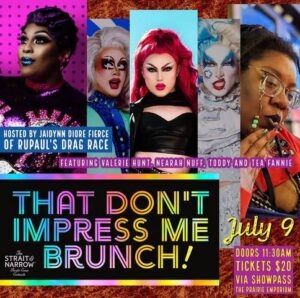 The following day at The Prairie Emporium, get ready for the highly anticipated return of the cleverly-titled That Don't Impress Me Brunch. This fabulous event features special guests such as Jaidynn Diore Fierce from RuPaul's Drag Race, Toddy and Valerie Hunt from Call Me Mother Season 1, Calgary queen Nearah Nuff, and local rapper Tea Fannie. Indulge in an array of comfort food classics like breakfast poutine, sandwiches, wraps, hot dogs, cinnamon buns, and tater tots. Quench your thirst with craft beer, cider, and brunch-based beverages like Caesars and mimosas.
The District at Beltline Stampede Showdown (July 10)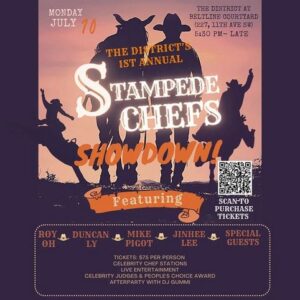 Since its opening in March of 2022, The District at Beltline has become a popular gathering place for Calgarians seeking the best culinary delights in town. And now, it's time for the district's first official Stampede event – the inaugural Stampede Chef's Showdown. This exciting showdown will feature renowned chefs such as Duncan Ly (Bar Chouette, Takori, and the now-closed Foreign Concept), Jinhee Lee (Jin Bar), Roy Oh (Roy's Korean Kitchen), Mike Pigot (Pat & Betty's), and Mikko Tamarra (Fortuna's Row). Each chef will conjure up a signature Stampede-inspired dish, which will be judged by attendees and a yet-to-be-revealed celebrity guest. Get ready to indulge in the culinary creations of these fantastic chefs.
Cowboys Music Festival's Drag Me To Brunch 2023 (July 15)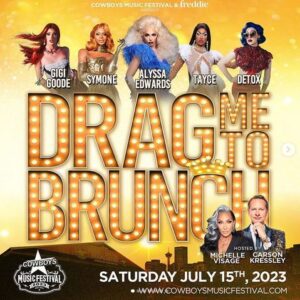 Despite its debut in Calgary in 2019, Cowboys Music Festival's Drag Me To Brunch has quickly become one of the festival's most iconic events that combines food and entertainment. This year's event features an abundance of local and international drag talent, including popular Drag Race performers like Gigi Goode, Alyssa Edwards, Symone, Detox, and Tayce. Returning judge/co-host duo Carson Kressley and Michelle Visage will also grace the stage. Alongside the electrifying performances, savor delicious food and beverage options from Cowboys Cookhouse and the Cowboys Food Truck Alley, including The Dogfather hotdogs and Okotoks' Big Sky BBQ.
Inspire Fest at Highfield Farm (July 15)
During the final weekend of the Stampede, immerse yourself in the unique atmosphere of Inspire Fest at Calgary's Highfield Farm. This grassroots production takes place at a regenerative farm and offers a delightful blend of education and performance. Enjoy live music, discover local art, participate in workshops, and explore the offerings of food and beverage vendors. Take a moment to relax in the beer garden and embrace the inspiring spirit of this event.
Calgary Stampede's official Drag Brunch at Nashville North (July 16)
If you haven't had your fill of Stampede-themed drag brunches by the final weekend, here's your chance to experience the second annual Calgary Stampede Drag Brunch. Head to Nashville North for a fabulous event featuring a star-studded lineup of local drag talent, including Karla Marx, Scarlett Bobo, Miss Fiercalicious, and Toddy. Get ready for electrifying performances, gourmet brunch food, and a unique addition this year – a Caesar-making competition showcasing the skills of local mixologists. The winner of the competition will have the honor of representing Alberta at the National finals.