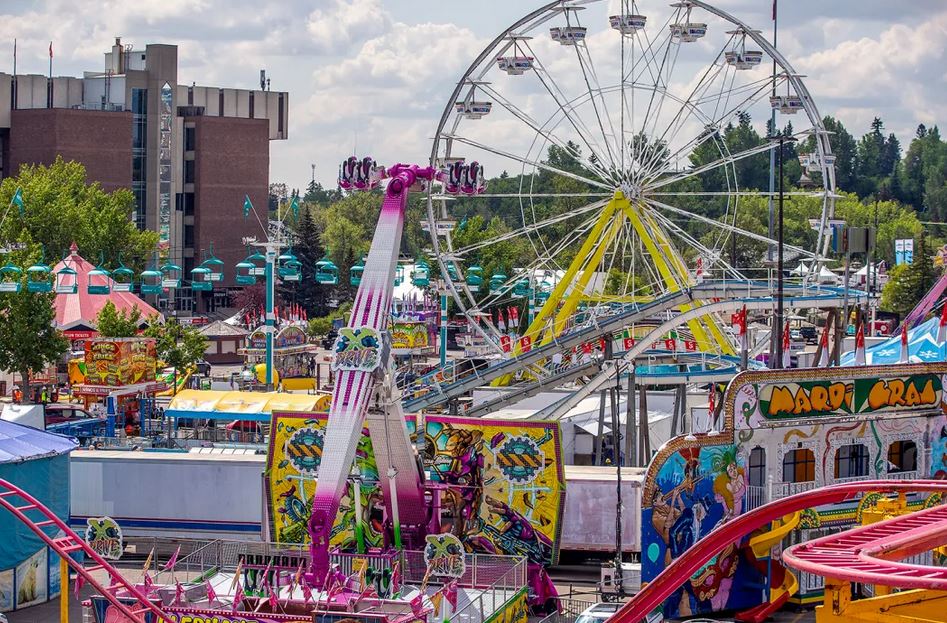 Kids and adults alike will have some new rides to try this year at the Calgary Stampede this year from North American Midway Entertainment (NAME).
In total, NAME is bringing a number of new rides that range from ones suitable for children, right up to the most extreme experiences on park outside of the rodeo's eight seconds of hell.
"We're thrilled we have five brand new rides here on the midway," said Scooter Korek, vice-president for client services at North American Midway Entertainment.
First of the new children's rides includes an elephant ride that the company took possession of in March in Miami. It's something Korek said has had nothing but positive reviews.
"It's been nothing but a sensation, it's been super good," Korek said.
NAME has also added a new tea cup ride and Rockin' Tug, which he said have also been well reviewed at other venues the company has operated at.
New this year for families is the Parker City Saloon funhouse, which eschews the traditional funhouse horror themes for something a little more in the Western spirit of the Stampede.
For adults, Korek said that NAME has brought the X Drive from Holland. The company premiered the ride just three weeks ago in Winnipeg at the Red River Exhibition.
"We have got a winner on our hands. Let me tell you, it's gonna be great," he said.
"It's two big arms, and at the end of the arms are eight riders on each end, and both of those buckets turn while the big arm is going around. It goes to the full 360 degree circle, and it is one great thrill."
Korek said that the some of the fan favourite rides are also returning this year at the Stampede.
The Crazy Mouse roller coaster, Polar Express speed ride, and the heat quenching log flume ride are back for Stampede visitors.
Visitors wanting to get the highest (and best) view on park, even higher than the top of the new BMO Centre Expansion, the super wheel is back as well. Riders take a 150-foot ride in climate controlled gondolas.
Korek said that every ride at the Stampede has to pass third-party inspection, Alberta provincial inspection, and daily inspections by the company before riders are allowed on board.
Source: LiveWire Calgary